HARRISBURG, PA, February 6, 2018 – Sen. Christine Tartaglione applauded Gov. Tom Wolf's commitment of $100 million toward workforce development programs as well as his support for raising Pennsylvania's minimum wage in the Fiscal 2019 budget proposal that the governor delivered today to a joint session of the General Assembly.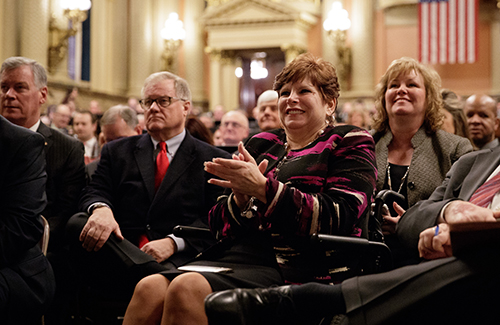 Tartaglione is further encouraged by the governor's intention to close the Delaware corporate tax loophole; his plan to expand access to substance abuse treatment and prevention; his renewed effort to require municipalities that rely exclusively on Pennsylvania State Police to pay for those services; as well as his call for more state investment in home- and community-based services for people with intellectual disabilities and autism spectrum disorders.
"I'm glad that Governor Wolf shares my conviction that Pennsylvania must improve its economic competitiveness by developing our workforce with programs like education and training, apprenticeships and industry partnerships, as well as mandating that employers pay workers fair, living wages.
"Just yesterday, I announced my sponsorship of Senate Bill 1044 to raise Pennsylvania's minimum wage from $7.25 an hour to $15 over the next six years. We haven't raised our minimum wage since 2006. All of Pennsylvania's neighboring states and 28 states across the country have a higher minimum wage than we do. Raising the minimum wage will make Pennsylvania a more attractive place for workers to raise their families and will improve the economy by putting more money in the hands of consumers."
During his budget address and in a more-detailed overview of his plan distributed through the Office of the Budget, Wolf proposed raising the minimum wage from $7.25 an hour to $12 this year.
Wolf also outlined a $50 million investment to improve access for Pennsylvania students and workers to education, training and career readiness programs; and $25 million to grow STEM and computer science-related education in K-12 and postsecondary programs. The budget plan further invests $7 million in apprenticeship and work-based training, along with $3 million for partnerships between employers and public workforce providers.
"These are issues that I've been attempting to advance for quite some time," Sen. Tartaglione said.
Similarly, Sen. Tartaglione supports the governor's renewed effort to close the "Delaware loophole." That's the law allowing Pennsylvania-based corporations to establish holding companies in neighboring Delaware, where their profits are not subject to a corporate income tax.
"For all intents and purposes, these corporations are Pennsylvania-based. They occupy land here and do business here. They should be paying their fair share of corporate taxes to support the infrastructure and services that enable them to succeed here."
Requiring municipalities to pay for local State Police coverage is another Wolf proposal that would have a positive impact on Pennsylvania's fiscal outlook, according to Sen. Tartaglione. The senator further supports the governor's plan to allocate an additional $74 million to services for people with intellectual disabilities and autism, including $16 million to provide 965 people with supports and services enabling them to keep living in their homes and communities after they reach age 21 and no longer qualify for the special education system.
In the ongoing fight against substance abuse, specifically opioid use disorder, the governor plans to leverage $26.5 million in federal funding to supplement the state's existing efforts to expand and sustain access to treatment services. Wolf also proposes a $4.5 million state allocation for training home-treatment providers and another $2 million to expand accredited drug treatment courts.
"Opioid addiction and opioid-related deaths have risen to catastrophic levels and are a public health crisis," Sen. Tartaglione said. "We must commit significant resources strategically and thoughtfully in response to this emergency."
# # #
If you would like more information about this topic, please contact William Kenny at 215-533-0440 or email at William.Kenny@pasenate.com.